Hey guys ! Today it will be a post about updating your Android version of Lava Iris 405.Everyone wants their phone updated to the latest version of Android,but only some Middle or High end Smartphones do get official updates,especially from the side of Indian local brands such as Micromax ! For example, take two Smarphones for instance,maybe Micromax Canvas A110 and Micromax A89.Micromax had released their official Android Jellybean Updates for Micromax Canvas A110,but there is just an empty bucket for Micromax A89.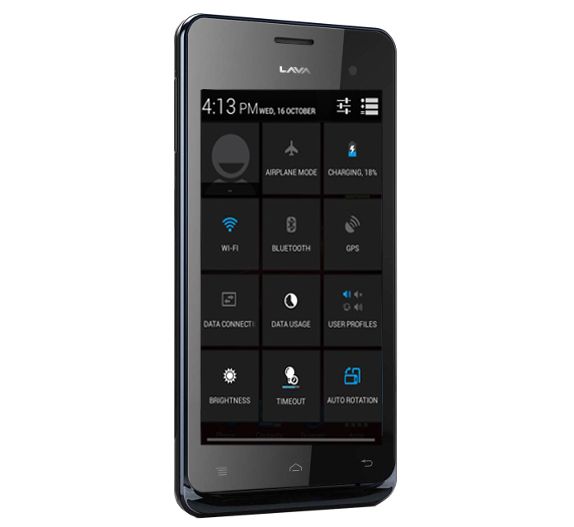 The interesting fact is that, both the Smartphones share the same chipset, but the only difference is that, one has a quad-core processor and the other has a dual-core processor.Its the same case in Lava Iris 405.So what will users do now to update their Android ? Simple ! There are many developers trying to port these updates from a similar mobile.Likewise,Lava Iris 405 has Android Jellybean 4.2,ported by developers.So today, I will be telling you how to update your Lava Iris 405 to Android Jellybean 4.2.
Now the next question is "Is it a risky process?".No!Of course,it is a easy one until you know what are you going to do.If you are aware of the Rooting,ClockWorkMod recovery and other Custom rom stuffs,it should be a easy one for you.It is just like installing a custom rom with the help of ClockWorkMod recovery or TWRP recovery.For this process,your phone must be in a rooted condition and a custom recovery must be available.Through out the process,I will be guiding through ClockWorkMod recovery.Make sure your Smartphone is rooted and a custom recovery is available.
Download the Android_Jellybean_4.2.zip from this link.
Note : This is not the pure Android Jellybean 4.2 update.It is just another custom rom.But the Android version is Android Jellybean 4.2.Thanks to Vipul Verma and other developer involved in this.There are some bugs in this rom.One of the main bug is that,the camera will not work properly.If you do take many photos,I wont recommend you to update.Installing it will result in losing the camera quality.There is a fix for the camera.You may find it in the official facebook group.I am not sute whether it will work or not.None of the ported custom roms will have a perfect camera.This mau be due to a missing or unmatching library file.
Instructions to update Lava Iris 405 to Android Jellybean 4.2 :
Download the Android_Jellybean_4.2.zip from the above given link.Download it completely,because flashing a incomplete rom will result in bricking of your Smartphone.
Place it on the root of the SD-card i.e sdcard/
Switch of your Smartphone.Press the Vol.Up,home button and power button together.You Smartphone will boot into the custom recovery if a custom recovery had been flashed in the past.Once the Smartphone boots into the custom recovery,do the following things.

Wipe data/factory reset
Wipe Cache
Advanced-Wipe Battery Stats
Advanced-Wipe Dalvik Cache
Mounts and storage-Format System

After doing the list of above things,select the "Install Zip from SD-card".Choose "Choose zip from SD-card" and select the Android_Jellybean_4.2.zip.Soon It will be installed.It will take upto 5 minutes.After the installation process,reboot your Smartphone.
Thats it!You have successfully updated your Lava Iris 405 to Android Jellybean 4.2.The features of this rom is just similar to that of the stock Android 4.2 rom.If you have got any doubts,just leave them below.Feel free to ask your wierd doubts.For the screenshots,see below.Note that screenshots may vary with this rom.
Screenshots :